Friday 14th October 2005
The Red Crescent Convoy
Friday morning, I got a call from the Pakistan Red Crescent Society. They were sending about eleven aid trucks to the earthquake-hit areas and since I had volunteered to go (as an interpreter for the foreign teams coming in), they asked me to get there by about 1pm. I was asked to bring my own provisions, a tent and medications etc. After I got there, I realized that it was a big media fiasco and that the Information Minister was expected to arrive before we left. There was also a large group of volunteer students who were going.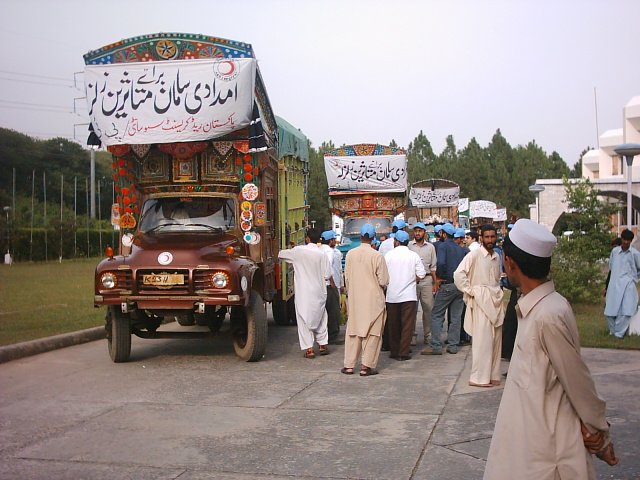 There were going to be three convoys: one for the Mansehra region, another for the Rawalakot region and the largest, consisting of 4 trucks, for Muzaffarabad. When they asked me where I wanted to go I said, "wherever I'm needed more", so they put my name down for Muzaffarabad. There were a total of eleven people in our group (not including the truck drivers). Nine students from Muhammad Ali Jinnah University, Islamabad, myself and our team lead. That was Aamir, a banker from Karachi, here on a voluntary basis, and as I later understood, one of the greatest people I have ever met.
The Minister, Sheikh Rasheed Ahmed, arrived about 2 hours late, had a photo session, said a few words and disappeared without a sign. No encouraging words to the young volunteers, no good wishes, not even a handshake. What a waste of time.
We finally managed to leave at about 4pm. These trucks can't go very fast when fully loaded so the ride was long, hard and bumpy. The dangers were also apparent the closer we got to the earthquake zone. Though signs of real destruction only started to appear close to Muzaffarabad, we passed a number of landslides. I saw rocks about as big as our truck, lying on the road. Whole sections of road had disappeared in many places and it was only thanks to the army that traffic was still getting through. It was obvious how hard they had worked to reconnect the roads.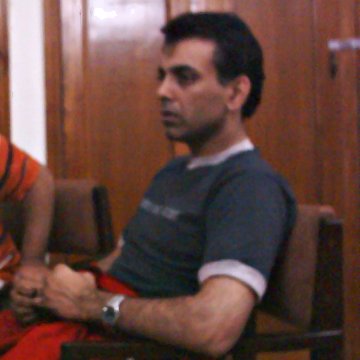 Another danger that was apparent was lootings. We passed lots of trucks that had been stopped and forcefully unloaded, long before they got near their destination. Again, if it wasn't for the army that has taken control of security, and our decision not to stop anywhere except for checkposts, things could have been very different for us.
We finally reached the Red Crescent office in Muzaffarabad in the middle of the night after about 10 hours, a journey that usually takes 3-4 hours by car.
Saturday 15th October 2005
Foreign and Local Red Crescent/Red Cross
The Pakistan Red Crescent Society (PRCS) office in Muzaffarabad is located inside a house in a well-off area where the construction is better and where the damage was mostly limited to cracks in the roads and structures and a few toppled boundary walls. The two-storey building is shared by foreign teams of Red Cross/Red Crescent workers who have setup their office on the second floor.
Though in theory, there should not be any difference between the two groups (local and foreign workers), they were both operating independant of each other. It was shamefully obvious how much more organized and better equipped the foreign teams are. The work they are doing is excellent and they really should be applauded.
Words can't describe the frustration and anger I feel at how useless, unorganized and corrupt the local body is, even at a time like this. It wasn't just the fact that they weren't doing anything themselves. Nor that they failed to facilitate the volunteers, such as myself, properly. It was that they were preventing those that came to help from making full use of their skills. Skilled doctors and medics, that had come from as far away as Karachi on a voluntary basis, were left to treat such ailments as minor colds and coughs when they should have been given the chance to save lives. Though I went as an interpreter, I and others were usually kept away from the foreign teams and treated like hired labour. Let me say that most of us had no issues in helping out with whatever was required, but if it meant that our primary expertise were being totally wasted, especially where human lives were concerned, it is a crime that deserves severe punishment and condemnation.
Though I plan to return to Muzaffarabad, I will have nothing whatsoever to do with any such agency. My best bet is to directly help the armed forces, foreign Red Cross/Red Crescent teams or gather a team of my own. The other volunteers, that had come from all over Pakistan at their own expense, have similar feelings.
Sleeping in the open
The night we arrived in Muzaffarabad, there was a big aftershock which caused everyone to camp outside the main structure. The tents were already full by the time we got there, so we had to find another place to sleep. Waqas had been kind enough to lend me a sleeping bag before I left Islamabad, so I unrolled it on the grass, out in the cold open and slid in. Not at all comfortable, considering that the bag didn't offer any protection from the cold and that I hadn't brought any blankets, but it was more than enough after the bumpy truck ride. The rest had no option but to risk sleeping indoors or in the porch.
Muzaffarabad – City of the Dead
The city of Muzaffarabad, capital of Azad Kashmir ("Free" or Pakistani administered Kashmir), is located at the junction of two rivers. The Neelum and the Jhelum join here to form the proper Jhelum, a major tributary of the Indus.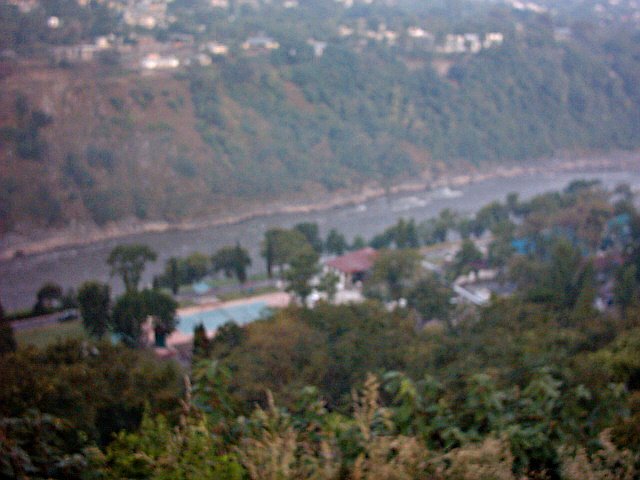 It is beautifully spread out over the hills and must have presented a scenic view before the quake. Now, the hills are dotted with white or pale patches where the earthquake ripped apart rock and soil and deposited the ground up remains at the bottom in the form of landslides.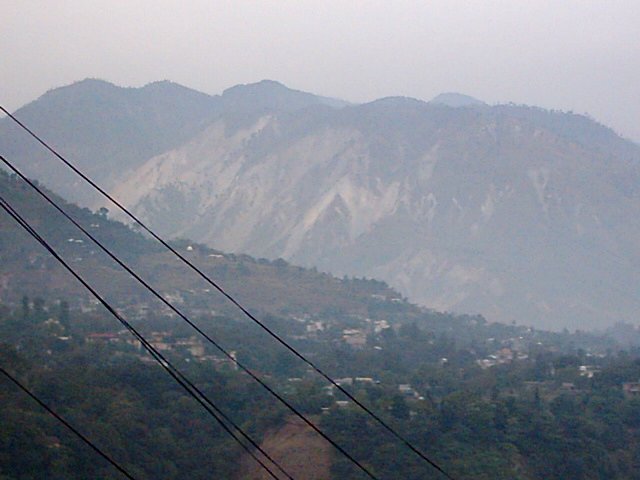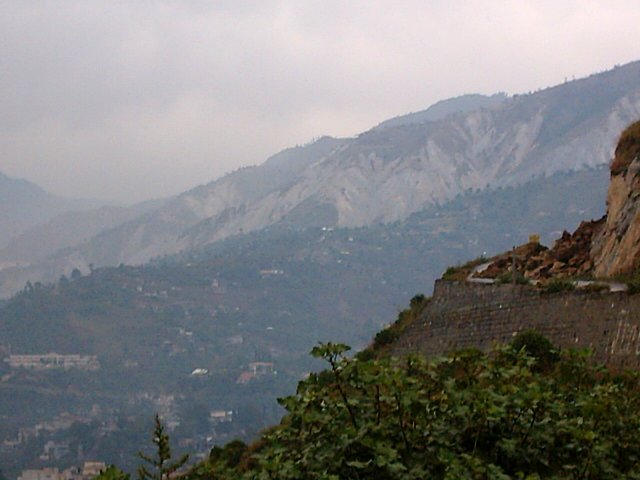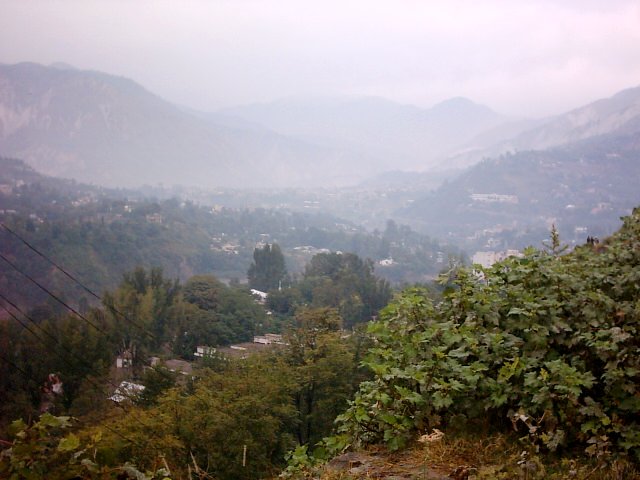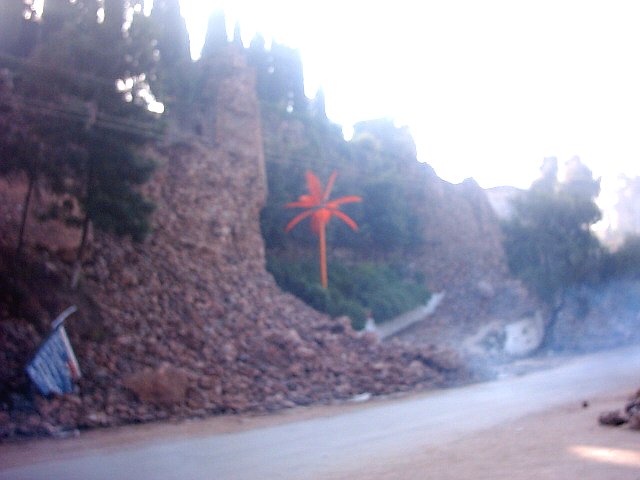 The up-scale areas have mostly gone undamaged. The court building still stands and is home to apparatus brought in by medical teams to treat the casualties. Almost all of the roads in and around the city are cracked.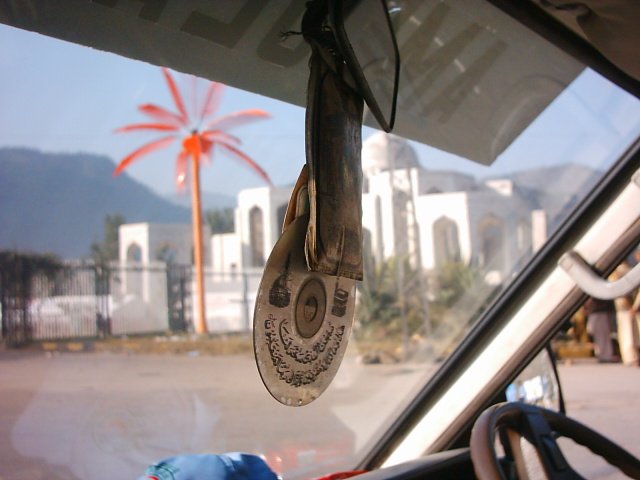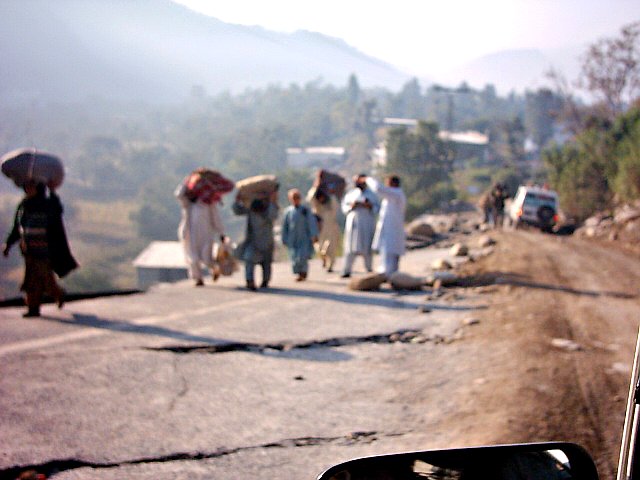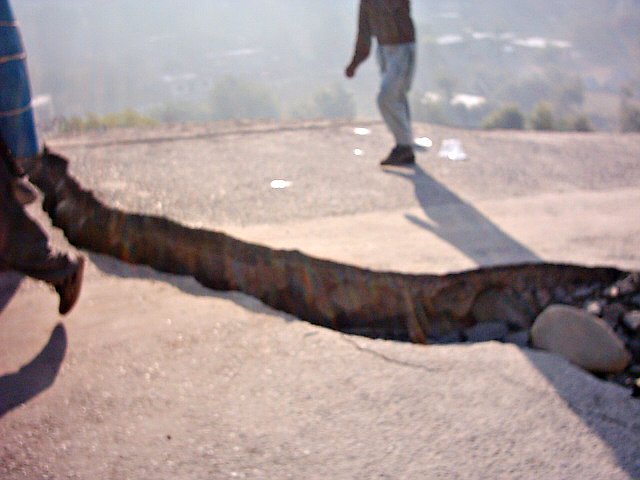 The inner city is filled with collapsed buildings, crushed cars and dead bodies which emit the distinct stench of rotting flesh. Though these are being recovered for proper burial, it will take a while to get the estimated thousands that still lie under the rubble.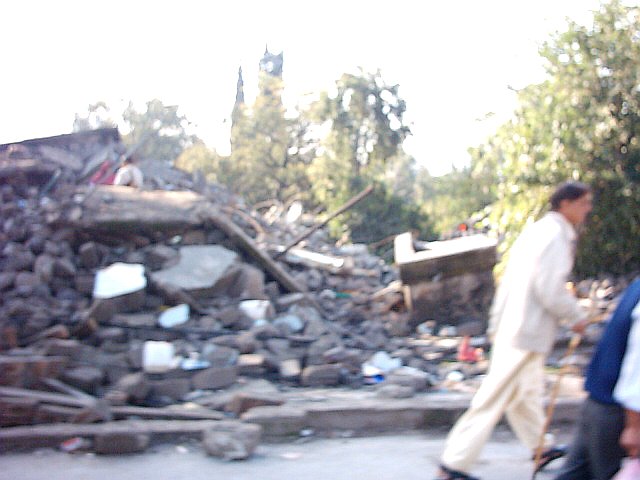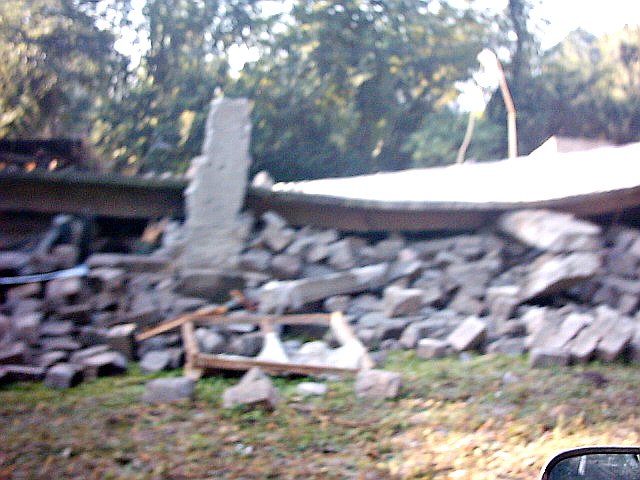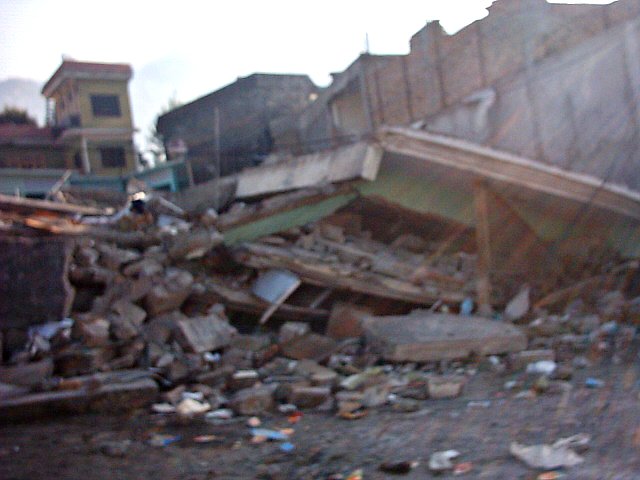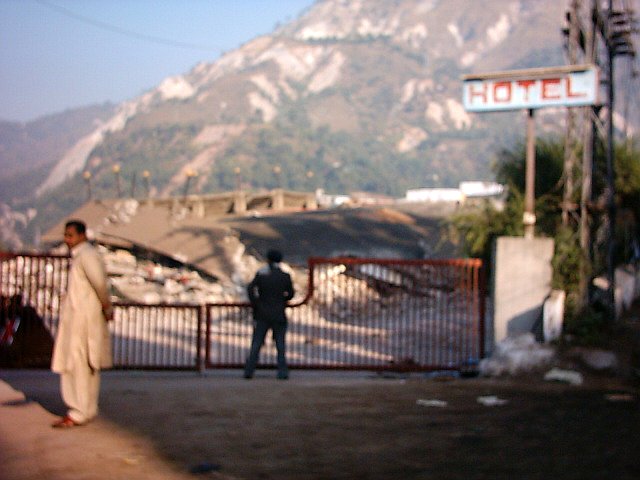 The military hospital also collapsed and the site is now being used by the French Red Cross team.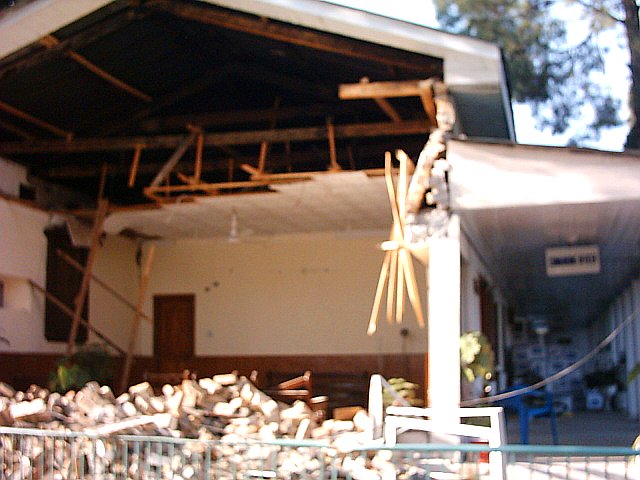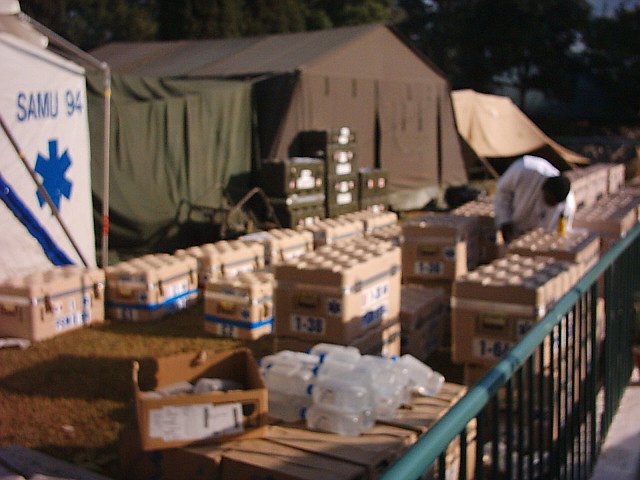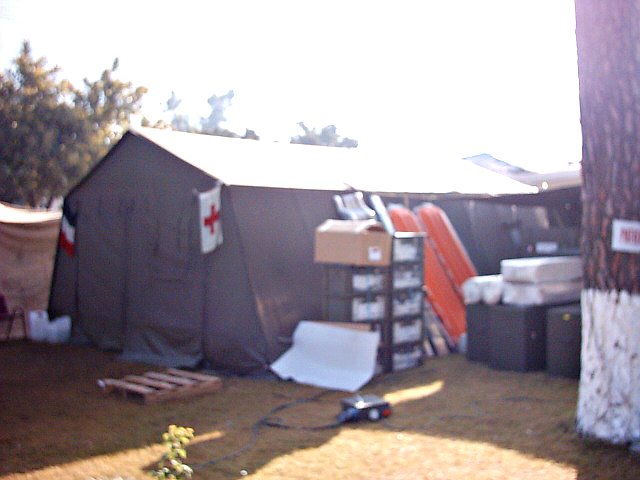 Tent Distribution
The rain woke me up at daybreak after a brief nap and we soon started getting ready for our first task: distributing the relief goods that we had brought. The aid trucks and team of volunteers were divided into two, one for the Neelum valley and the other, which I was in, for the Jhelum valley. We were given some pointers on how to distribute the goods without letting things get out of control. In the pouring rain, I crawled into a truck full of tents, pick-axes and shovels. The only room was on top of the tents, next to the axes, an uncomfortable, dangerous place to be. Ahsan, a volunteer from Lahore was with me. The cover over the truck provided some protection from the rain, but left little head room for us.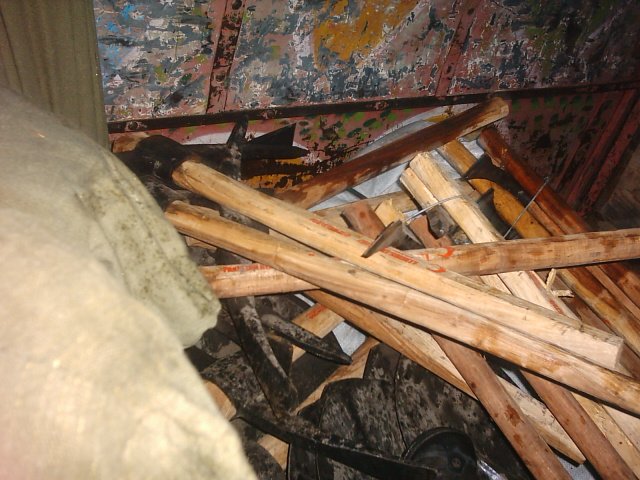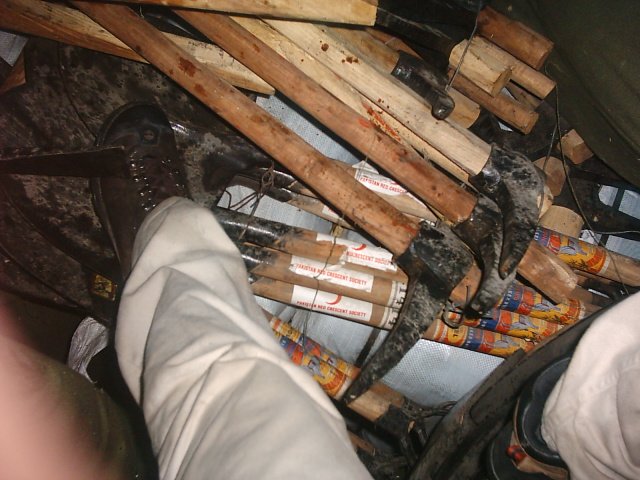 A few kilometers outside the city, we stopped at a distribution point next to the river where a group of soldiers was posted. Aamir left me in-charge of tent distribution and coordination with the soldiers and went ahead with an army officer to survey the conditions further upstream. Initially, the distribution went pretty well. The army kept things under control and already had an effective system. Soldiers would hike up to the villages and survey the damage. Those that truly required aid were issued a stamped slip and asked to collect the goods from where we had stopped.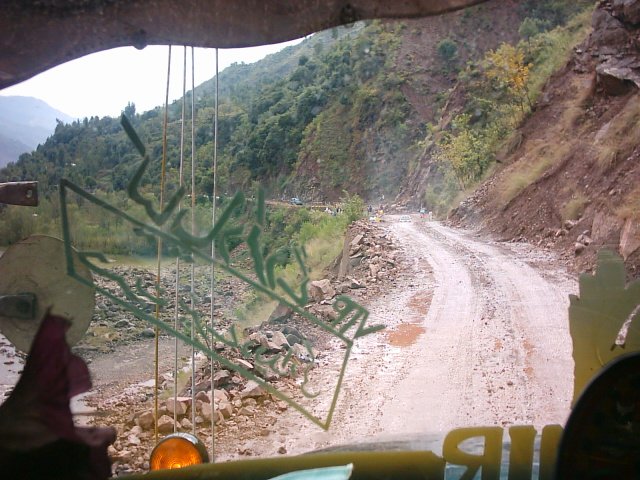 A stream of suspicious people without slips kept coming to me begging for tents and in certain cases, I had to ask the soldiers to forcefully have them removed. Once the quota of tents was reached, it was time to move ahead to the next point, but suddenly, things started to get out of control. Despite the presence of armed army personnel, the crowd started to turn into an angry mob, swearing and cursing at me, since I seemed to have the final say about the tents. If we hadn't got out of there in time, I might not have been here, perfectly ok and writing about it. At the next point, the army officer in-charge advised us not to stop (the mob was already out of control here) so we quickly moved ahead.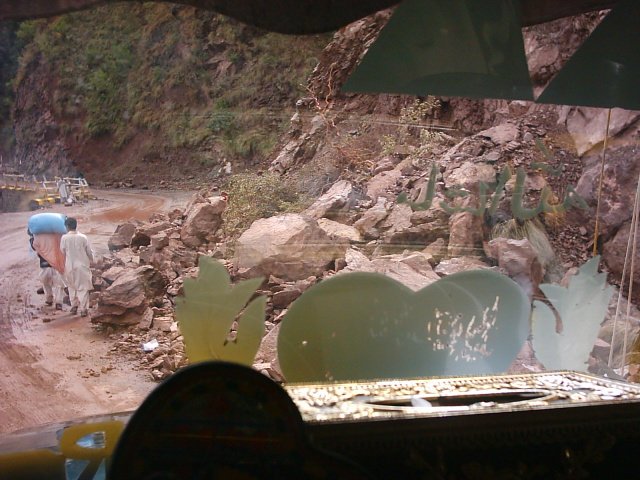 A Belgian group of doctors had set up a make-shift hospital a few kilometers ahead and this is where I caught up with Aamir. The rest of the tents I sent ahead with a soldier and volunteers to be distributed at the final post before the road became unusable.
The Belgian Hospital
The hospital consisted of a number of spacious tents with different sections for checkups, treatment and for looking after serious patients. Most of the doctors were Belgian and here on a voluntary basis for a week or so. They had enough expertise and equipment to treat most serious cases on the spot, though those requiring serious surgery were usually airlifted by helicopter to the city or Islamabad. The doctors planned to add a surgery section on the other side of the road, though I didn't return to see if it had been done.
A number of seriously injured people were brought in, mostly on beds carried by family members or neighbours for hours or even days, though the utter insensitivity and selfishness shown by the rest was disgraceful. People held up the line just because of a cold or a sore throat. One man was previously given a pill to treat his backache. He now returned because a mild stomachache, side-effect of the pill, had taken its place. At one point, the head doctor got so fed-up that he considered wrapping it all up and returning home.
The worst incident was of an 8-month pregnant woman, suffering from internal bleeding, who waited so long for her turn that by the time the doctors managed to get rid of the morons in front, she was nowhere to be found. It was only after I returned to Islamabad that I learned that a woman with the same symptoms was flown in and treated at PIMS. The baby is alright, though the mother has broken ribs and is in a critical condition. I hope that it is the same woman and that she gets well.
Things only improved after we asked soldiers to assist in crowd control and asked anyone who wasn't seriously injured to leave. Soon, a man with a skull fracture, a broken jaw and broken neck was carried in. After administering first-aid, the doctors had him sent to to the city hospital. Hope he lives.
Food Distribution
The second truck of aid goods had already been unloaded in a tent at the Belgian hospital. It consisted mostly of plastic bags, packed with portions of food, drink and medicines. Since the requirement was to use these separately, I got a few army personnel nearby to help in sorting the items. The medical supplies were sent to the main part of the hospital while we sorted the food and drinks according to what could last the longest without spoiling. Fresh bread, nan and dates would go first. Milk cartons, juices, rice etc. could be kept longer.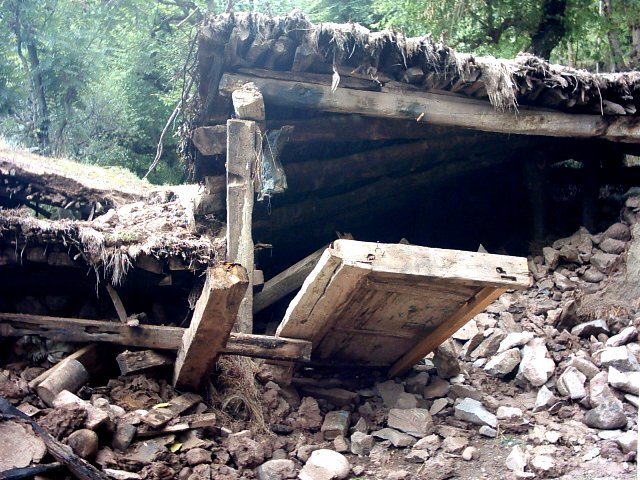 Shams, a local who works in Islamabad's "Melody Food Park", had a house just across the road from the hospital. He lost family members when it collapsed, yet he seemed at peace and helped us in whatever way he could. Since most of us volunteers were not fasting (fasting is not allowed while travelling over a certain distance in a day, according to the Shia faith, but it was also difficult to fast for the rest in the circumstances we were in), he had lunch cooked for us, a luxury we didn't expect to enjoy till we returned. He also identified the families that really deserved help since here, most people knew everyone else who lived closeby.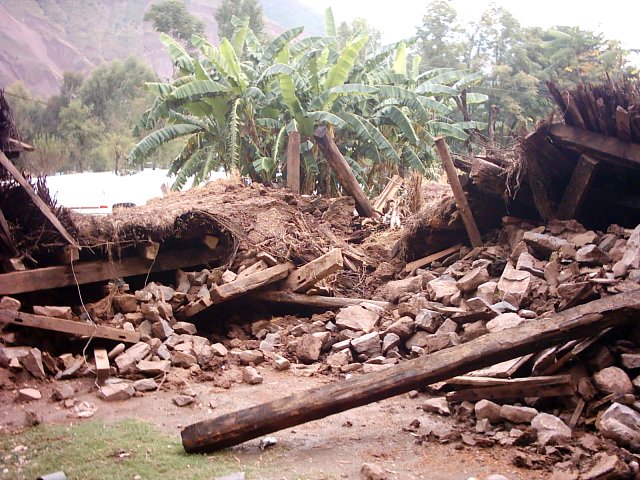 Once everything was ready, we asked an armed soldier to stand guard and started the distribution. Women, children and the elderly would be given preference. The rest would come later, though we soon realized how mistaken we were. At first, things seemed to be going very smoothly. Then we realized people would collect their share, ask for a couple more things as though it was a shop and they were the customers, drop them off somewhere out of sight and get in line again. And the culprits were almost all women and elderly. Even worse, families would set up "camp" nearby and send an army of children to collect rations and dump them in their camp. Passersby, already carrying sacks of aid from elsewhere, would hide them behind a tree or a bush and get in line. In a lot of cases, they ended up with more than they could carry.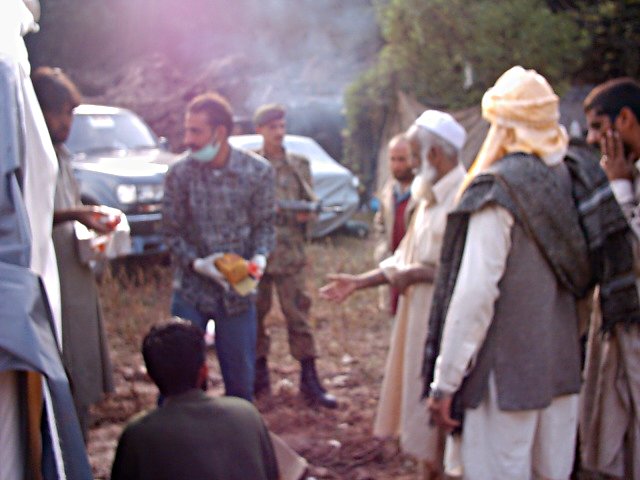 Seeing what was happening, we tightened up the rules. Everyone, whether man, woman or child, would have a red X marked on their hand with a permanent marker after receiving their share. I myself got in front of the line to keep people from pushing and identify the rascals that were hoarding the goods. It was like trying to control kindergarten kids. Though it was infuriating to see people try to rub off the X as soon as they left, this method seemed to work very well. The army officers commended us and said that it was the best-managed distribution they had seen yet. After over an hour, we had distributed only about half of the rations and without any serious mishap.
Sunday 16th October 2005
Helicopter drop that never happened
Before I arrived in Muzaffarabad, I had thought of staying there for two days and returning on Sunday night. After getting there, I wished I could have stayed for weeks since as harsh as the conditions were, it was gratifying work. I felt better about everything, the thought of comforts that I once believed I couldn't live without, vanished and I felt a strength in me that I never knew existed.
The second day, it was decided that the volunteers would follow the doctors to remote areas where help was needed. They would have to hike up the mountains over unstable terrain, carrying heavy load, and save enough energy to get back. Two of the volunteers would be airlifted by chopper to very remote areas and stay there for an unspecified number of days. I was one of the few that qualified (sleeping bag and good hiking boots) so immediately got my bag ready and joined Ahmed, a student of MAJU in waiting for the call.
Unfortunately, the weather was so bad that only a couple of helis flew and that too near the evening. One of them was a German chopper that just arrived. At least I got to meet the pilots. Most of the afternoon was spent getting the Red Crescent offices in order, after the Brigadier left us to clean up the mess.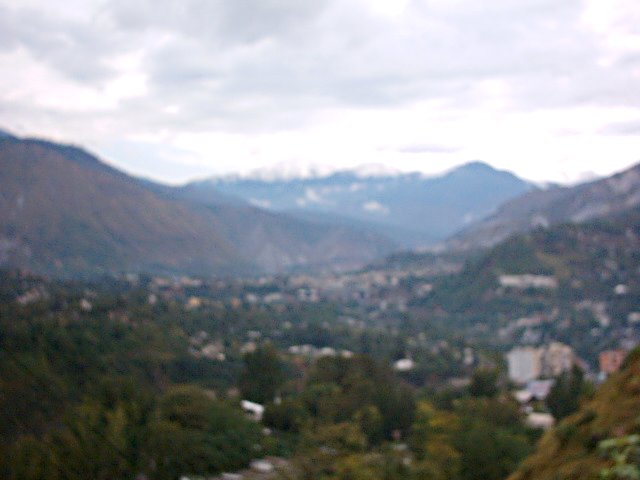 Another fleet of trucks carrying flour arrived during the day and Ahmed and I were asked to have them unloaded at a nearby guest house that was now serving as a warehouse. The moment we got there, people seeking aid started pouring in. We made the best of the situation and got all the two dozen or so to help in unloading the trucks. Once this process was running smoothly, we left an elder in-charge of unloading the rest of the trucks and returned to the office.
Later in the day, a Turkish team of Red Crescent workers arrived and Aamir had me assigned full-time to be their interpreter and liaison person, in addition to Haseeb, a dedicated and friendly Muzaffarabad local. Though I was asked to pack my bags and soon left with the team, somehow, I ended up back at the office and was kept from going with them again.
Despite Aamir's best efforts, I never got to do what I was really good at. I could have been of good use to the foreign teams, especially the one from Japan, yet none of the people running the show cared. A day that went to waste.
Monday 17th October 2005
Neelum – The valley of death
Monday, instead of waiting around, I joined the Karachi team to go and provide medical aid to places where it wasn't yet available. These guys had tried to hike to a village in the Neelum valley the day before, but had to turn back due to inhospitable terrain.
In two ambulances, we drove upto "Nisar Camp", a few kilometers outside Muzaffarabad, towards the Neelum valley. Here, a tent was already setup where some of these doctors had been treating patients for a few days. We took out some of the medical supplies we had brought and put them in boxes and bags that we could carry.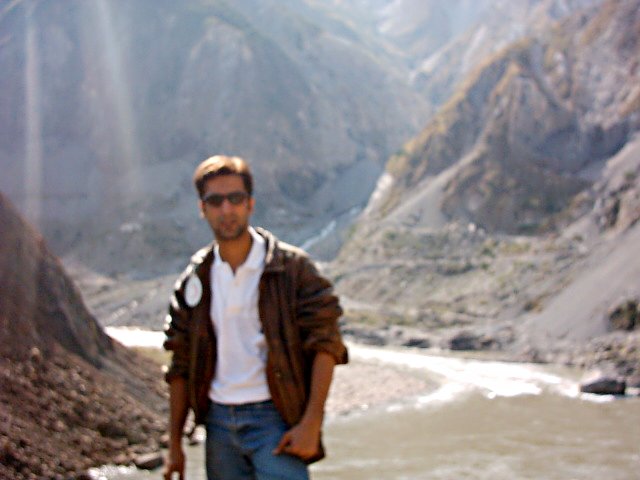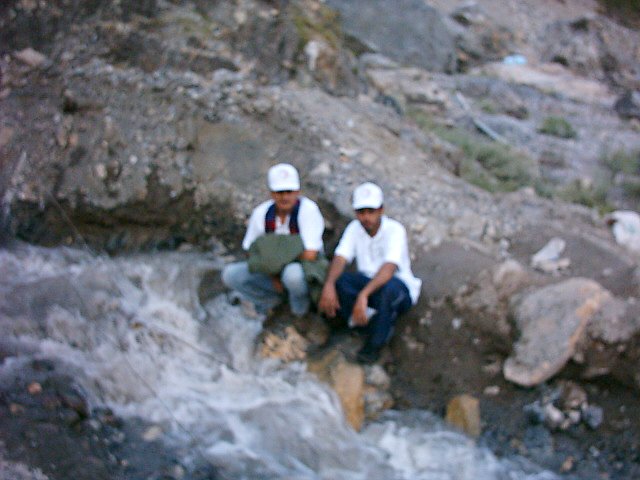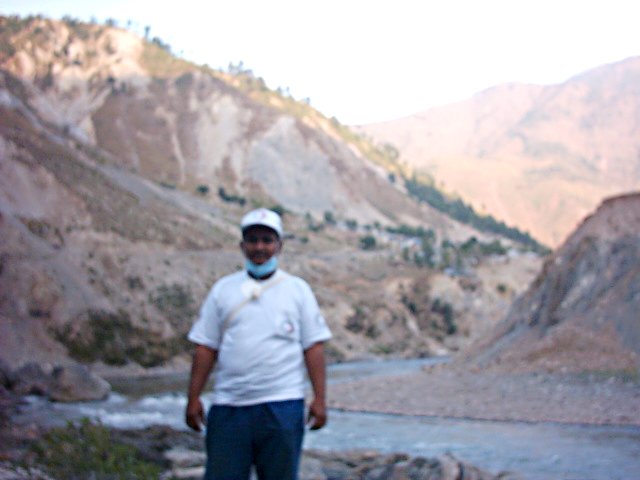 Five of us, Dr. Farhan, Dr. Abid, Asif, Irshad and myself, set out towards a village further upstream from us, carrying whatever we could. The road was only open until a kilometer or two ahead, after which landslides had wiped them off the face of the mountains. The army workers were constantly busy clearing the existing path and making a new one where the damage was great, but they could only cover a very short distance per day.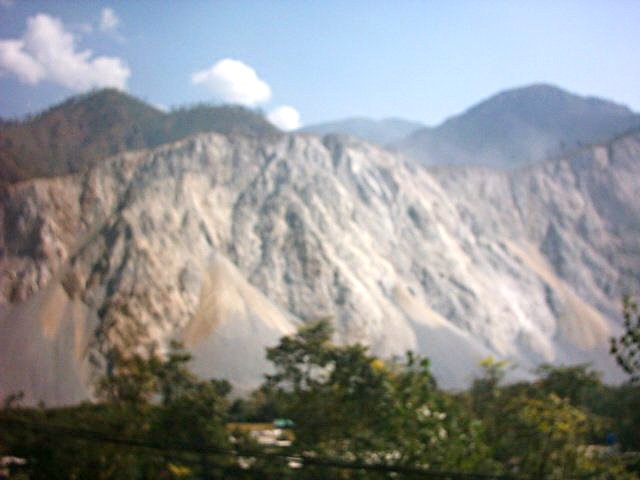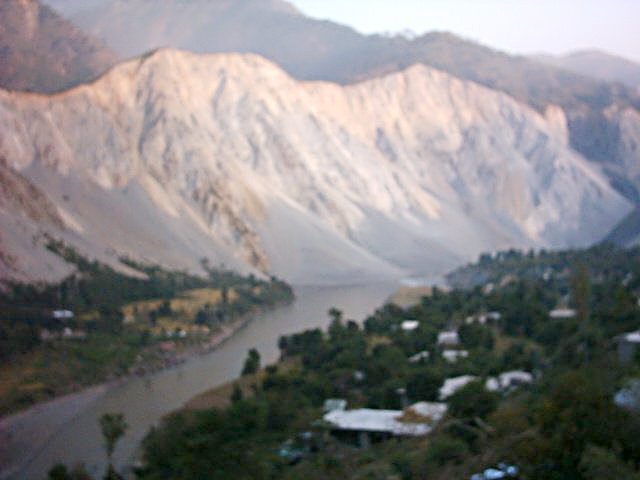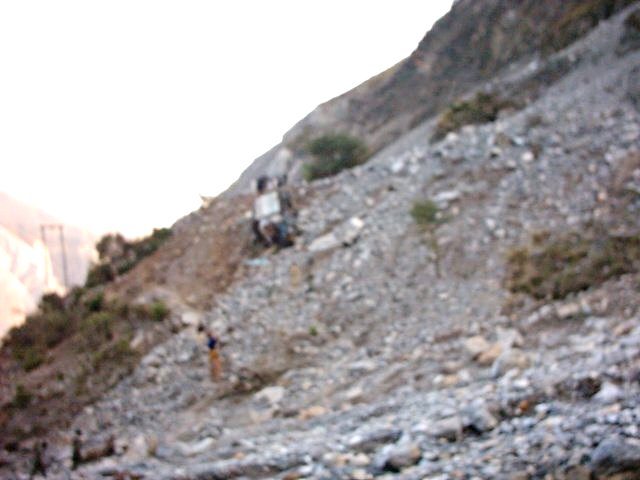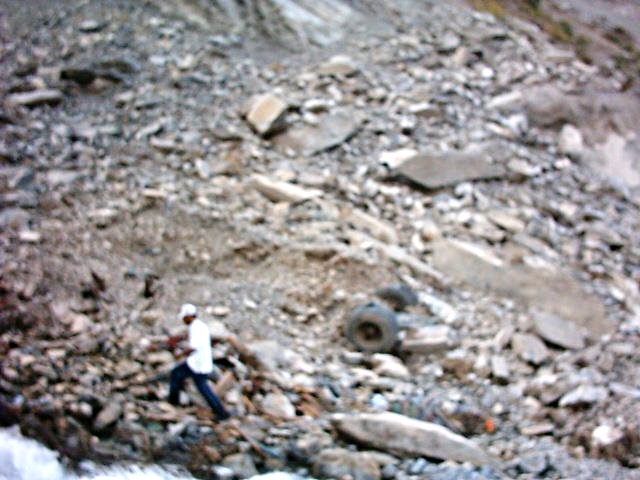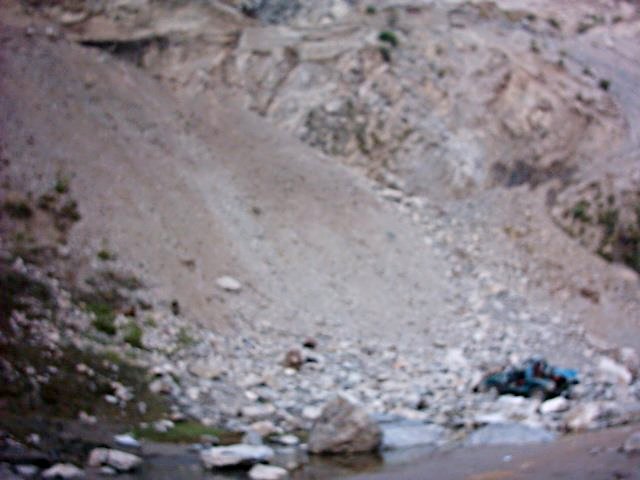 It was here in the Neelum valley that the full fury of the quake could be seen and felt. Whole mountains seemed to be cut in half with a gigantic knife, exposing their pale rocky flesh. The resulting debris was deposited at the botom in piles huge enough to engulf whole villages. The initial landslides were so large that the flow of the river was blocked for almost six hours. Countless trucks, jeeps and vehicles could be seen half buried in the landslides or twisted into an almost unrecognizable shape. The only bridge to the other side, a suspension bridge, was in the water, though by the time we returned, the army had completed fixing a rope bridge.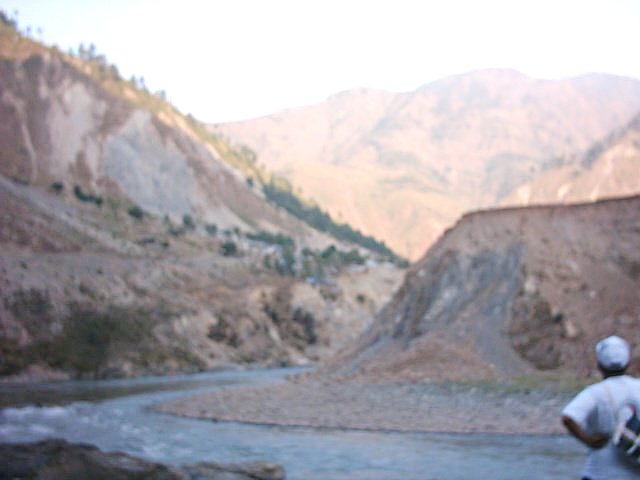 We saw it just about the place where the road vanished into crushed rock. People were walking over it as if it was part of the road. The stench of rotting flesh was all over Muzaffarabad, but here it had an image. It had been there for over a week so must be festering with all types of diseases, yet when we pointed it out to the passersby, instead of avoiding it, they started to touch it. The body was half buried into the road with only the legs exposed. I couldn't get a shot of it at the time and thought that I would do it on our return, but by that time it, and the others the army had recovered, had already been cleared.
From that point on, we had to find our own way through the unstable rocks, debris and water. The valley is actually quite beautiful with streams, just clear white lines from afar, bringing spring water down to the river. There were even palm trees here, something I didn't expect at such a cold place.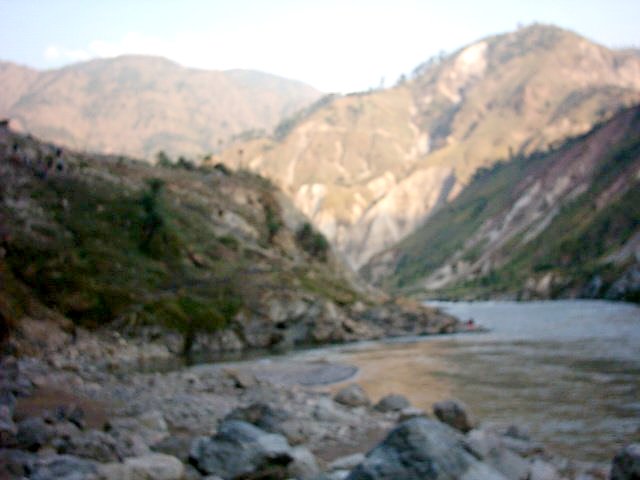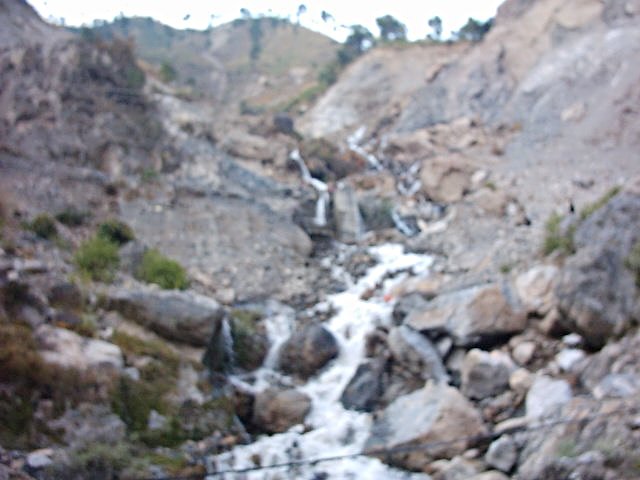 But despite the beauty, the river is a grave to thousands of people who perished in the earthquake when whole villages simply fell into it and disappeared. Those that survived the quake, have constantly been under threat from landslides that still have not entirely stopped.
Volunteer Team from Karachi
Until this trip, my only doctor friend was Furqan. Now, I had a chance to bond with other, very capable doctors, in addition to learning a lot in this area. It was well worth spending time with the team of volunteer doctors from Karachi. They did an excellent job and at the same time, kept their own as well as everyone else's spirits high. Their chef, Irshad, was especially good at the latter. This chubby guy, with the resemblance of a Genie, provided much needed comic relief at such a time and his innocent remarks never failed to make everyone laugh or smile.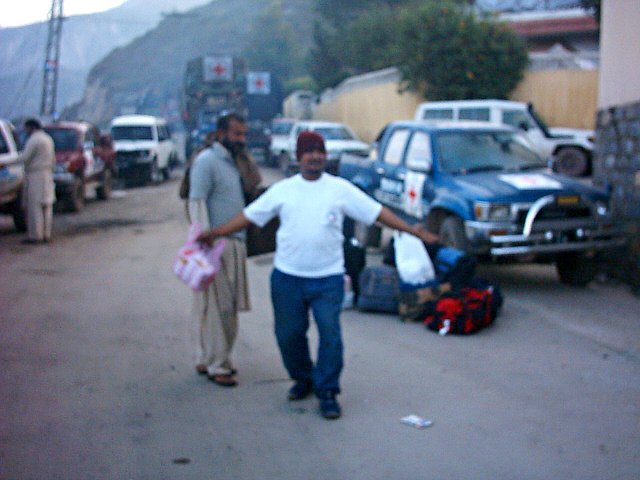 I promised my new friends that I would send them the photos I took, though since most images were taken while moving or in strange circumstances, they didn't come up very clear. I did the best I could to improve the color and sharpness (using Gimp) though you can't much improve something that wasn't there in the first place. Here they are: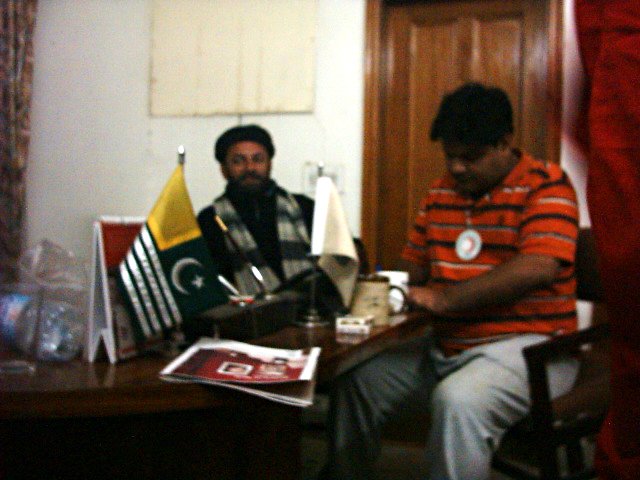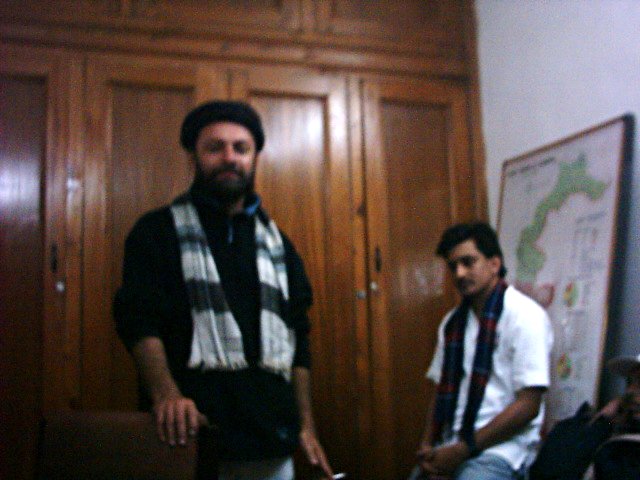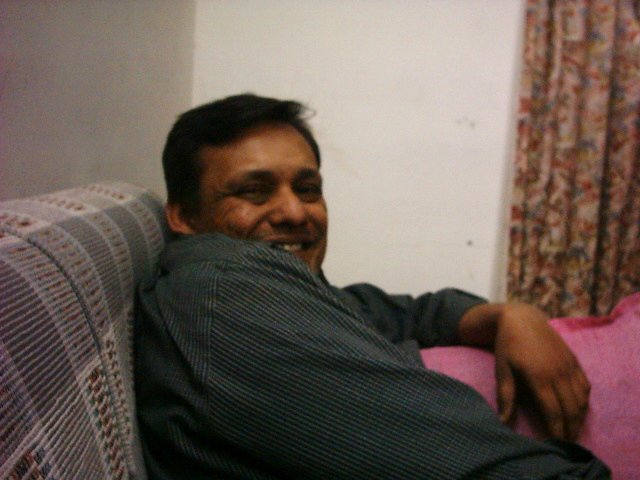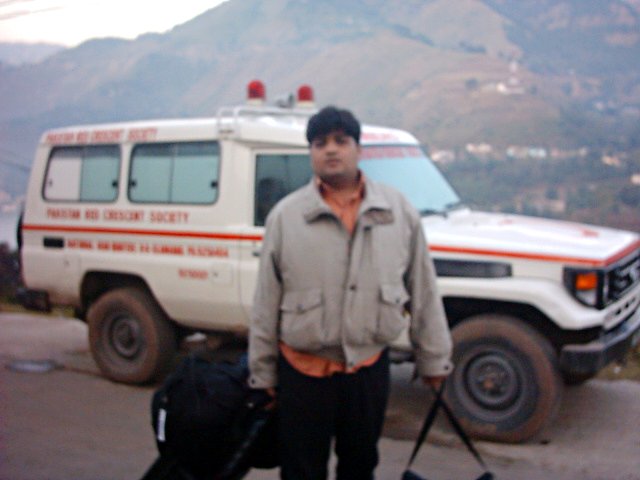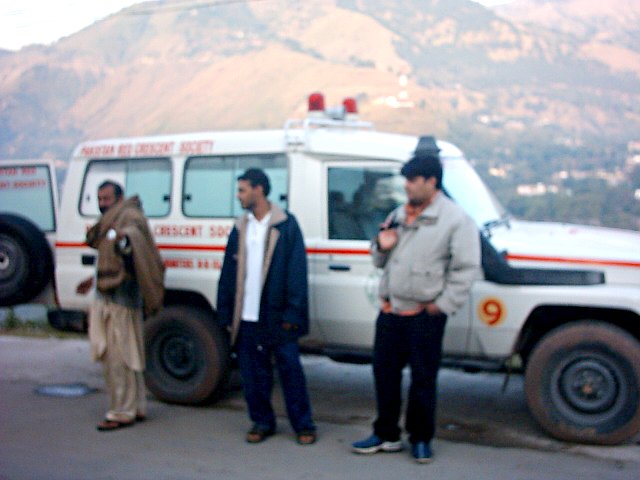 Neelum Valley: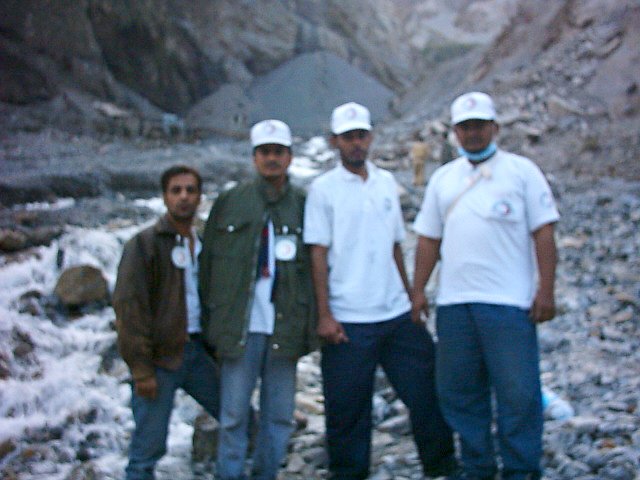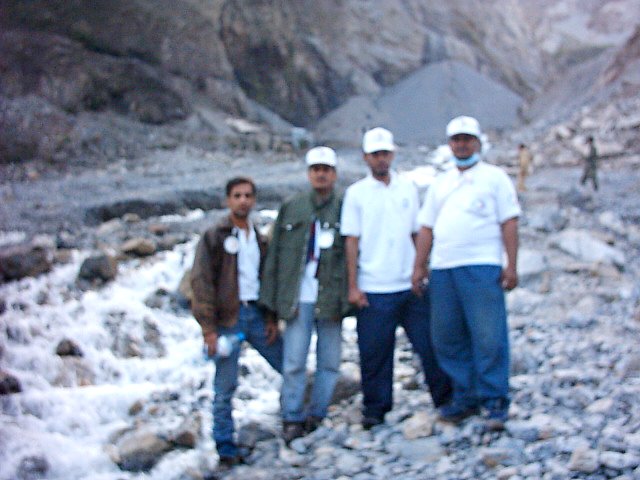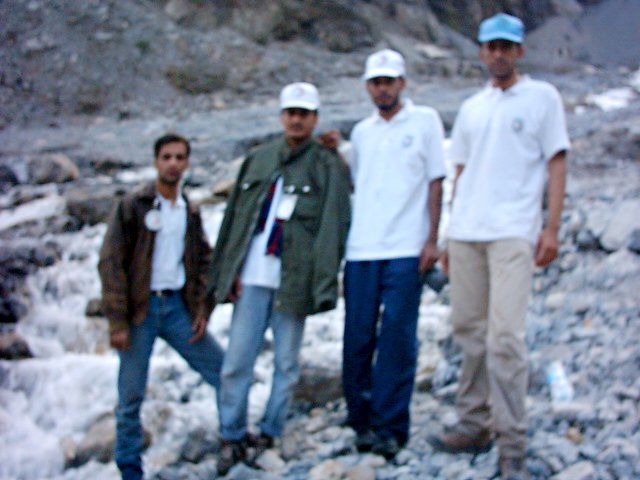 On our return to Islamabad, we stopped at the site of the collapsed Margalla Towers apartment block.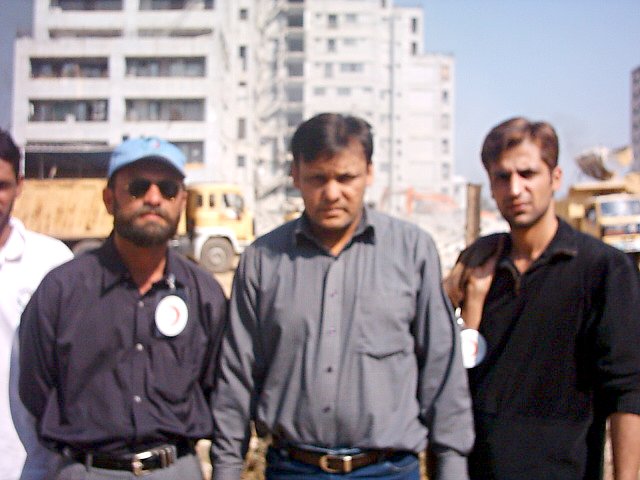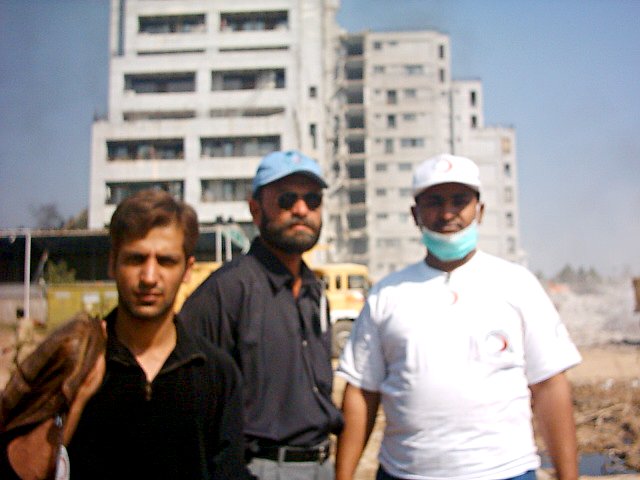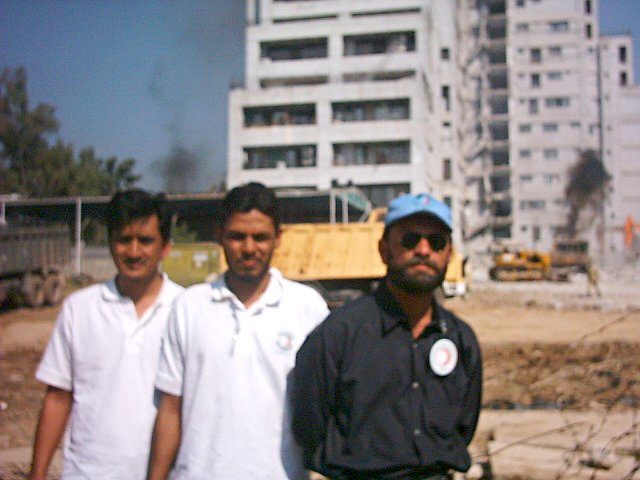 Oh, and many thanks to Adeela Aslam for lending me the camera. My writing would have been pretty dull without any photos.
The great people of Kamsar camp
Now I come to the most rewarding and interesting part of my whole journey. The first village in the Neelum valley, that isn't yet accessible by road, is Kamsar. It is where refugees from Occupied Kashmir (Indian Administered Kashmir) have lived since the 1990s. As we later realized, the contrast between this group of amazing people and the thugs we encountered elsewhere was astonishing.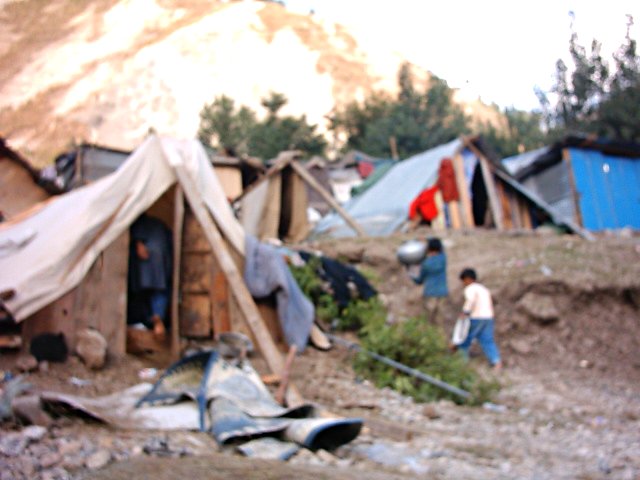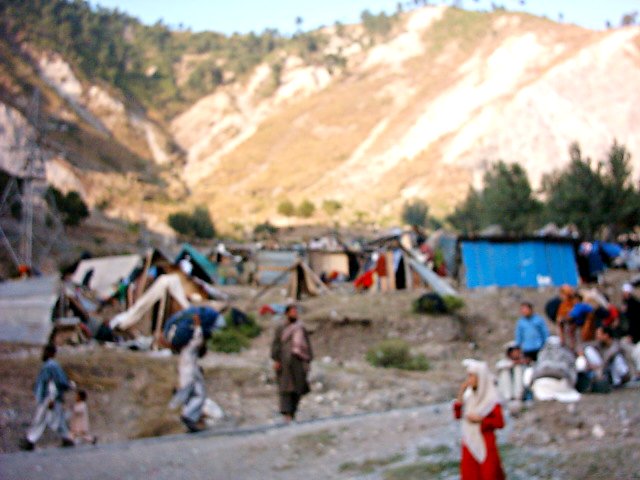 We got news that no medical teams had reached this village yet and that was what made us choose to go there. After a hike of about 45 minutes, Asif and I got there, while the other three lagged a long way behind, somewhere out of sight. Imtiaz, a young man in his 20s, greeted us and offered all the help he could muster. When no suitable place to setup camp could be found, he emptied his own tent. We learned that the village elder was his brother and used to teach in the local school, but was crushed to death when it collapsed during the earthquake. He left behind this cute child who Imtiaz now looks after.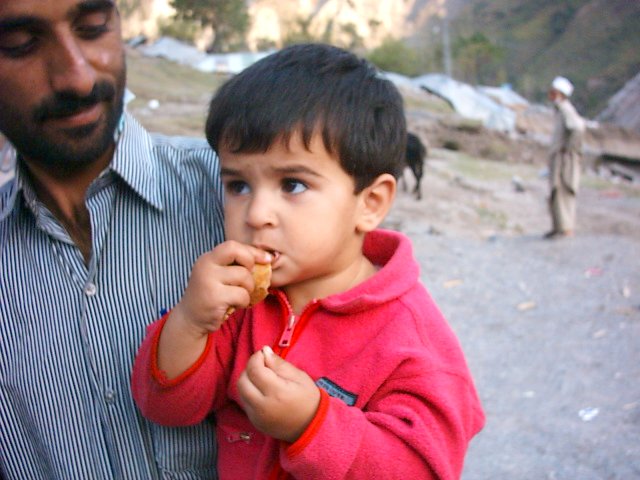 Once our team was ready, we asked Imtiaz to start bringing in the injured. Most wounds were inflicted when the people tried to run away from landslides and were concentrated on their feet and legs. The good part was that most had already started to heal. Irshad and I took care of basic wounds and dressing, while the rest handled more severe cases.
The whole village seemed to have suffered very badly from the earthquake and it was obvious that they hardly had anything left in terms of provisions or belongings, yet they did whatever they could to make us feel at home. Instead of complaints or demands, all we got were blessings and good wishes. All this and getting a chance to treat so many people, from small children to women and the aged, was such a great experience that it made me regret having chosen my current line of work.
After a while, three of us went to treat those with serious injuries who could not leave their beds or tents. On the way, I noticed freshly dug graves, next to what used to be the main buildings in the village. These had all collapsed and appeared to have sunk into the hillside. But the now all too familiar odor of death was still strong, indicating still-trapped bodies. We learned from Imtiaz that there used to be just over 100 families here. They have already buried about 150 dead while the majority remain under the rubble.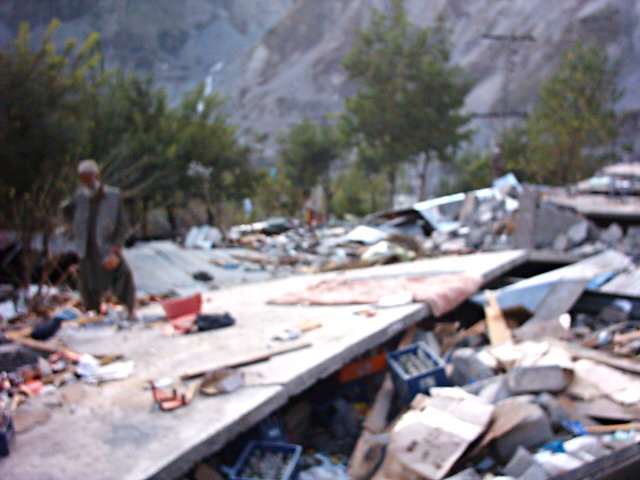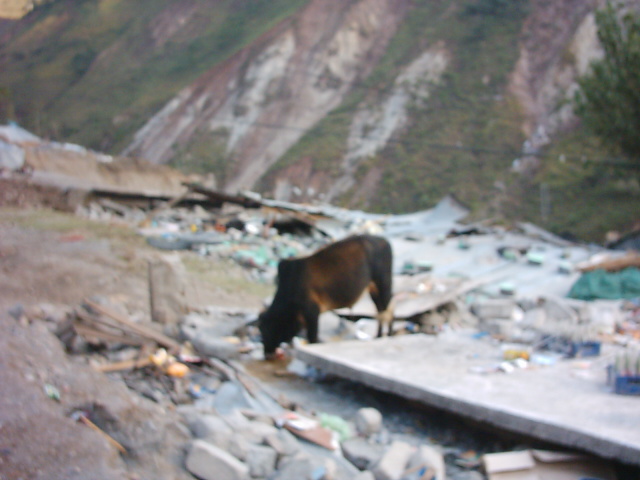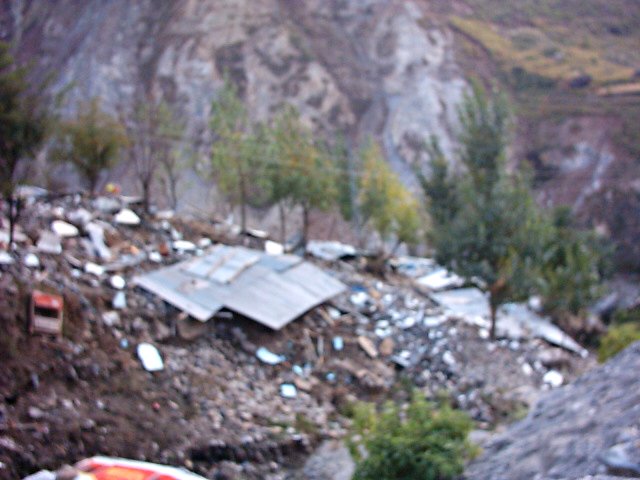 All families seemed to have suffered heavy losses. The girl in this photo injured her knee when her school collapsed, but her sister wasn't even lucky enough to survive. Even the baby had to have her foot bandaged.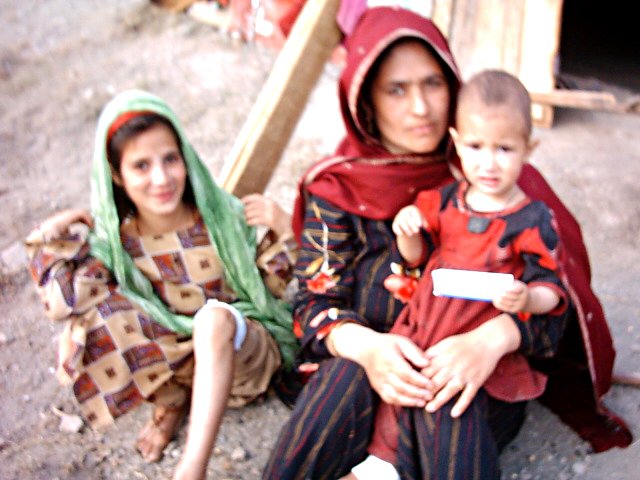 Now for the thing that really touched us. We were about to leave when we noticed a truck near the entrance to the village. Upon asking, Imtiaz said it was carrying food supplies somewhere when the quake struck. The driver abandoned it right there and disappeared. These people's belief in "amanat" (something left for safe-keeping) is so strong, that instead of using the supplies themselves, these people have been guarding the truck against looters until the rightful owner returns.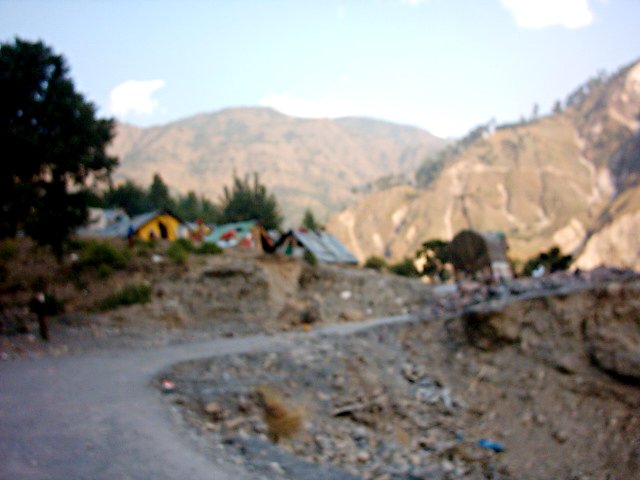 Another village further ahead needed assistance, but the locals warned us that it would be almost impossible for someone unfamiliar with the terrain to reach it alive. And even if we had made it, it would have been too late to return to the city, so we started to head back just before sunset.
More information on the refugees of Kamsar can be found here:http://www.jang.com.pk/thenews/oct2005-daily/12-10-2005/national/n8.htm
What I learned
Muslims consider natural disasters, such as earthquakes, as an act of God, a show of anger, punishment for the degradation of not just an individual, but society as a whole. This is why it is so amazing that those directly affected by the calamity could act in such an inhuman way.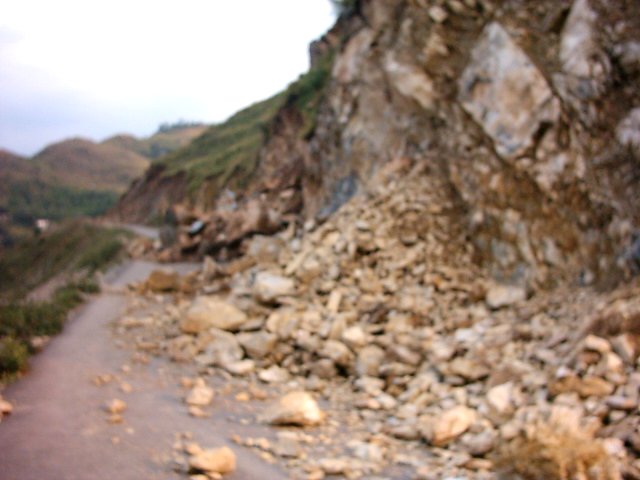 You can guess how we felt after seeing what was happening to truckloads of aid coming in. The trucks were stopped in the city (if they managed to get that far) by the locals who have only marginally been affected. Food, tents and the best pieces of clothing and blankets disappeared immediately while the rest was left to rot on the city streets. I even saw people using the clothing as fuel for their bonfires. People are piling up on supplies that they don't even need and what other people's lives depend upon. Yet these are just the small thieves and looters. The bigger criminals are those who hold some amount of power. Officials, politicians, even aid agency workers. A police/army raid on a single house in Muzaffarabad uncovered about 170 hoarded tents while about 90 tents were found in another house. A large portion of blankets and medical supplies that are unloaded, disappear while only a token amount is left visible.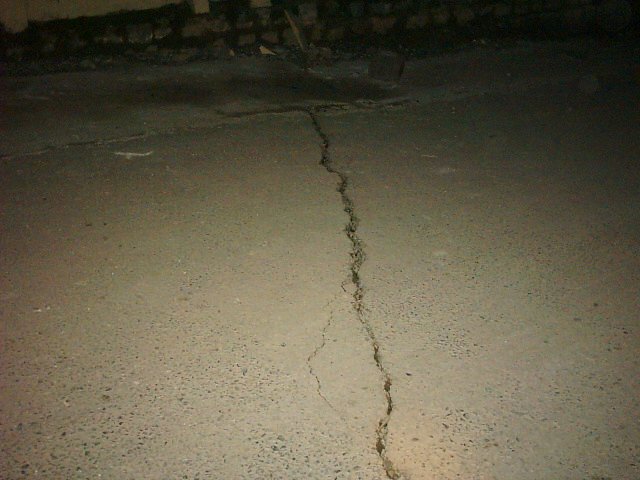 It looks like any aid that arrives in the usual way will just go to feed these reptiles. The immediate need is to get all this to the areas unreacheable by road or even air. The number of helicopters are limited and their priority, rightfully so, is transporting the badly injured. And even they aren't much use in many mountainous areas such as the Kamsar camp we visited. Airdrops aren't much use either since a lot of the dropped material end up in the rivers and with people attempting to catch goods, such as tents that two grown men have trouble lifting, can be deadly.
What can be done now? Organize a small team of volunteers, that is mainly composed of doctors and medics, hike to the troubled areas with whatever you can carry and help the people directly. Hire mules or a local guide, if possible. Not the most efficient way, but at least some lives are actually saved this way. If that isn't possible, get in touch directly with the foreign Red Crescent/Red Cross teams that are already doing an excellent job and require all assistance possible. It is also advisable to coordinate with the army. Though the media has criticised it harshly and unjustly, the situation would have been much worse without it.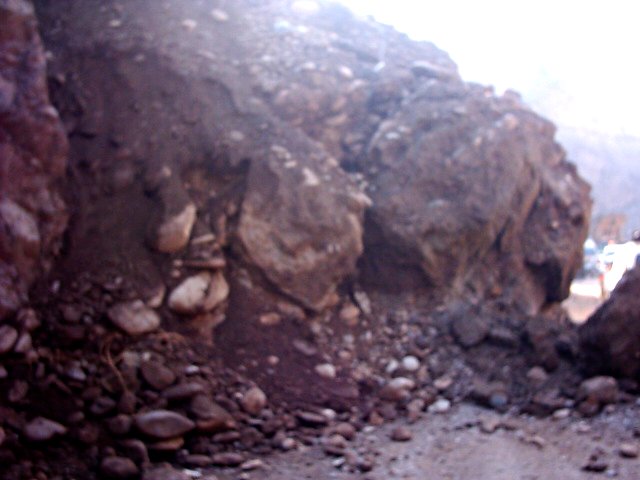 Once that is done, there is a need to relocate hundreds of thousands of people and provide them with a source of income. The hills around Muzaffarabad are highly unstable and composed mostly of mud or soft rock that easily breaks or slides. Extensive logging has further made it dangerous. We noticed that cracks in roads are gradually widening and on our return, narrowly escaped a fresh mudslide, small as it was. Before rebuilding schools and other buildings, we have to consider if it is worth the risk.