Via BoingBoing: this python swallowed a pregnant sheep and then couldn't move off the road.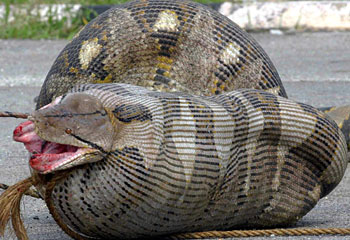 More info here together with a mention of these incidents:
In July surgeons were forced to operate on a 4m Burmese python after it inadvertently swallowed a queen-size electric blanket.
Humans also have become victims. In 1972 a python in Burma swallowed an eight-year-old boy.
In October last year, a 3.6m python came off second best in Everglades National Park in Florida. The snake, which tried to swallow a 1.8m alligator whole, exploded, said scientists who found the gory remains."
I'm reminded of another incident while I was in Singapore. Across the border in Malaysia, a man was strangled by a giant python which was in the midst of swallowing him whole when people found and killed it.