It's that time again. After the disappointment at finding an ideal phone that could take decent pictures as well as easily balance my account, I had become sure that I would live out the rest of my days with a couple of simple, camera-less mobiles, such as the Nokia 1110 that I currently have (an excellent phone, by the way). Yet when the opportunity presented itself, I took the bait.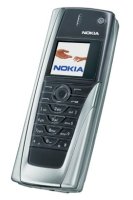 It was a chance to get rid of my broken (now repaired) 6680 and get a used organizer+phone in its place. I'm now the proud owner of a Nokia Communicator 9500. Ooh, the word "Communicator", combined with a very large 4-digit model number is enough to make any man proud and feel like the toughest kid in town. And it's not just the name and model that turns it into a woman repellant. This thing is a monster. A reminder of the days of yore when a phone was more than just a talking device. It was a status symbol, a show of power, a weapon you could use to actually knock your opponent out.
The phone portion of the 9500 is pretty slim actually. It's the inner LCD, keypad and the battery portion that are responsible for most of the bulk. Looking past the size (the weight doesn't seem to be an issue actually, or could be just me), the features could make up for the decreased portability.
Typing a message is almost as easy as typing an email, thanks to the thumb-friendly keyboard. The screen provides enough space to view even my blog, thanks to the built-in wifi support, and there are enough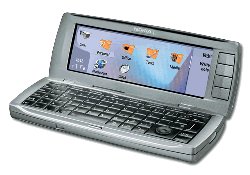 features to keep you quite busy. The one drawback I can see straightaway is the speed. Though I'm told that it can be improved after formatting the device once, currently, it feels slower than that 486 laptop I have stashed away in my closet.
I haven't had much time to mess with it, but it looks like I'll either keep it for quite a while (because of all the features) or get rid of it very soon (due to the size and slowness).