Here is what President Barack Obama might look like when he leaves office in eight year's time: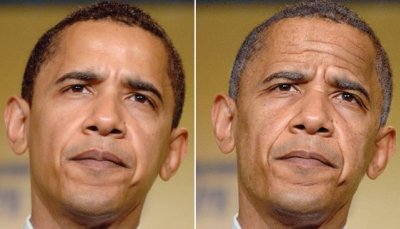 Seems that being the president of the United States is such a stressful job that the wear and tear causes them to age twice as fast as an average person unless they maintain a very healthy lifestyle.
Though Obama has what it takes to overcome all this, his time in office may be the toughest we've seen in a while. Dealing with an ever-worsening global financial crisis and a serious situation developing in and around the Middle East, he'll have his hands full and all this could take its toll.
I have to wonder, is this kind of stress and accelerated aging common for all rulers? Can't be true for all rulers. Just look at our excuse for a prez. Wouldn't it have been a lot greater for other great leaders in history? How did the Prophets deal with it? Prayer? How did people like Alexander and the Caesars do (well, most of them did go a little crazy)?
Oh, do check out the Xerxy fun blog. Updated quite regularly with other fun stuff like the above.