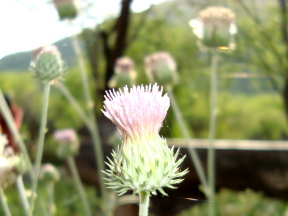 I've come across a unique and interesting problem. I have this image of a plant (found on the hiking trail) that I think is a useful herb, yet I am unable to search and identify what it is.
Have tried Google's image search with numerous search terms such as "herb with pink flower" and "herb with pink flower and thin petals", but haven't gotten anywhere so far.
It would be so very useful to be able to upload an image and search for anything similar to it. Identify the species of snake that just bit you. Search for that cute girl on the opposite table. Find out if the mushroom is an edible one.
I'm sure Yahoo, the big G and Microsoft each have technology that can do some level of image matching, although at a high processing cost. Maybe they should offer such a service on an experimental basis.