Miranjani Peak (2,992 metres/9,816 ft) is the highest point in the Galiyat/Hazarajat/Murree region. This includes the Abbottabad and Rawalpindi districts, as well as the Islamabad federal area. Depending on fitness and weather conditions, it takes between 2 to 4 hours to reach the top from the holiday retreat of Nathia Gali.
Last Saturday was my third time climbing Miranjani. The three of us left Islamabad at about 6am. We reached the starting point of the trail at 8:30am and made it to the top within two and a half hours.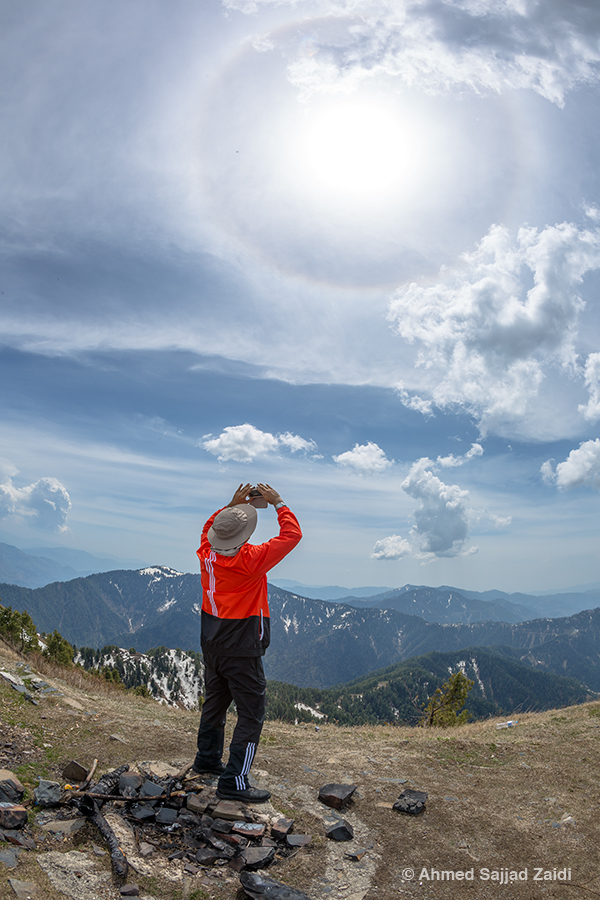 After reaching the top, we discovered a magnificent view of the surrounding mountains. Even the mighty Nanga Parbat was visible in the distance. Looking above, we found the sun surrounded by a ring. This halo is created by sunlight reflecting off of ice crystals in the atmosphere. Probably an indication of the upcoming hail storm. Nevertheless, it made an excellent subject to photograph.