A couple of months ago, I heard a rumour that a huge hotel was going to be built on the green belt in front of the current PIMS (Pakistan Institute of Medical Sciences) which is pretty much at the physical center of current day Islamabad.
Today, I saw the sketches of what the hotel and mall complex will look like after three years and they are very cool (couldn't find the other one online):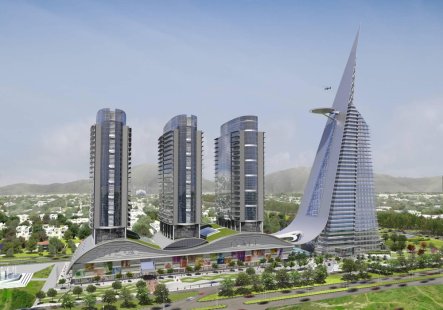 My office is in the area right behind this so it would be a pretty awesome sight.
Currently, Islamabad's biggest and most impressive structure is Faisal Mosque, built by the Saudis at the foothills of Margalla hills and visible as a dwarf in the above sketch. Then there are the government buildings, such as the Prime Minister's secretariate and the Convention center, built by corrupt regimes to mimic the grandeur of the Moghul empire. But they seem nothing in comparison to this.
The thought of such a great structure in a place like Islamabad seems quite odd. This was once considered a quiet and peaceful little city (and still is by Lahoris and Karachiites) and I remember going for casual strolls as a young kid with my parents in the very same area the hotel will be built. There wasn't even a road near the place which is currently the capital's center.
Yet the main city's design is such that it can't grow very dense. That is, without some serious remodelling. Maybe this is a start in that direction. Guess will have to wait and see.