When I returned to Pakistan almost four years ago, I was used to a healthy lifestyle of working out regularly, eating healthy food and avoiding most unhealthy stuff. Sushi and salad were my favorites and anything spicy, salty or oily was out. Though I used to love colas, chocolates and all other types of junk at one point, I lost interest once getting into the groove.
Now that my sister's on a healthy diet, I've realized how my habits and preferences have changed. You can judge how very healthy I am by the fact that I can hardly find time to go to the gym, rest very little and end up eating a lot of junk food. That includes lots of spices (as compared to before) and unhealthy snacks with sugars, salt and preservatives. There's also much more meat in the diet than before.
I think it has a lot to do with how fast things are changing in Pakistan. Our lives are getting more and more hectic and we have more money to indulge the taste buds, yet few people know much (or care) about nutrition and would rather enjoy their meal and live with the few extra inches around their waist than go for something beneficial. Often, I'm so caught up in work that I don't even leave the office and either skip meals or order in. Funnily, I'm still roughly 8kgs lighter than when I got here with hardly any difference in shape, a fact that really irks my rounder friends.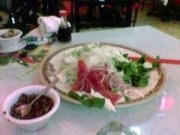 Since there's little demand for healthy food, there's next to no supply. Take salad for example. My favorite used to be Caprice, made from sliced tomatoes and cheese. Good cheese is still very hard to find here and tomatoes are preferred half-burnt in curry with all the goodness lost to spices. When it comes to salads, the best you'll get is something like Rahat's, full of all kinds of meat and fatty dressing. Subway formed a major part of my diet in Japan, yet the outlet here is truly pathetic and to be avoided whenever possible.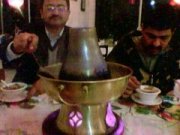 I think the healthiest thing I have had in the last couple of months is "Fire Pot" at a Chinese restaurant in F-7. I guess it's not much different from the Japanese Shabu Shabu, something I never got to try in Japan because of the non-halal meat. Interesting fact (via Wikipedia): the Hot Pot originated at the time the Mongols dominated most of Asia as an efficient way to feed the troops. Anyway, the Fire Pot was good and quite healthy, but something only a select few friends are willing to brave with even fewer liking it. Today's lunch wasn't bad either. Pasta with lots of olives and tomatoes.
So, the solution, at least for me, lies in finding new friends who can appreciate a healthy lifestyle. Kidding. I think I need to move to another city (or country) with less stress and better options for food. Or, hope that more people around me start worrying about their health.