Tata Group has just unveiled Nano, the world's cheapest car, which is about half the price of the cheapest existing cars on the market. At about Rs.100,000, or $2,500, this is quite an awesome achievement.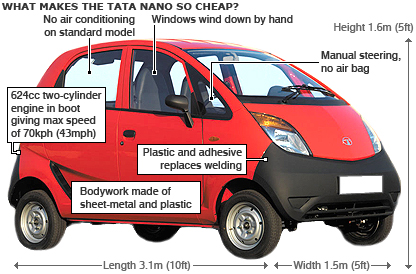 Air conditioning, automatic windows and powered steering can be considered unnecessary luxuries when it comes to providing a vehicle for the common man, but the Nano also compromises on some security. It lacks an air bag and is mostly made up of sheet metal and plastic. The use of adhesives instead of welding can also be a concern. But then again, its top speed is only 70kmph and I can imagine it being used mainly in India's urban areas where traffic is usually heavy and slow-moving.
Whatever the case, it would definitely be a better option for those that currently can only afford a motor-cycle. Plus, it actually looks quite good.