About a year back, I gave up the never-ending game of upgrading to the latest and greatest mobile and besides being a waste of money, one of the reasons was that all mobile phones suck. You may get used to one and might even start to make use of all its functions, but there will always be something missing. This is how I have gotten used to my clumsy P990i. I've come to live with it, but it hasn't helped my productivity much.
After just a few hours of playing with it, I think I've found one that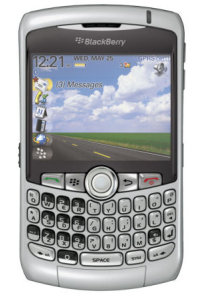 sucks a lot less than others. There were some minor bugs with our web application that only seemed to affect BlackBerry users, so we just had to get our hands on one for "testing purposes".
Currently, Mobilink is the only carrier in Pakistan that has an established BlackBerry service using Edge (I know Ufone was testing one, but I couldn't find any details for it) and it really is pretty expensive. Then again, something that can help to fix a bug and also increase your output is worth the money.
We decided to go for the BlackBerry Curve (8310 with built-in GPS) and proceeded to hand it over to one geek after another to have them test it. Yesterday, it was my turn to play with it and I have yet to find anything wrong about it. I think it may finally be time to ditch the P990i and go get me one of these. The only doubt I have is with the Mobilink service and their requirement that you get it all from them (the service, the set etc.) and at inflated prices.
The lack of a touch display, side scroll wheel or arrow keys may take a little getting used to if you've been a Sony Ericsson user for a while. But the interface seems much easier and simpler after about an hour's worth of use. The pearly scroll ball feels like it's about to fall off, but works pretty well. The overall design is very slim, sleek and simply beautiful.
Some time ago, I installed Midpssh on my P990i to be able to login to my servers. However, it was quite unusable due to the unreadable display, slow connection and constant hangups and reboots of the buggy phone. This time, I've found a build of Midpssh specifically for BlackBerries and with some minor tweaking (the APN has to be set to connect.mobilinkworld.com under "Options –> Advanced Options –< TCP"), it is working very well. I tried to take a picture of the clear crisp interface I got after logging in, but my camera isn't good enough to capture the beauty of it.
And off course, the Google Maps application is amazing. Combined with the built-in GPS, it can pin point your location to within a couple of meters and even point in the direction that you are heading. Viigo is also one of the better syndication clients I have come across.
The camera is quite underpowered for something as nice as this, but the ability to directly post your photos to Facebook is pretty cool. It may be an outdated technology when compared to other smart-phones and services. However, I like it. Now you know what to get me for my next (…um..er… current?) birthday.