A good friend of mine has launched another construction project by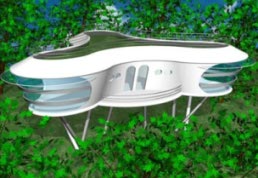 the name of PakHuts. Their focus is on the futuristic design and construction of huts in the beautiful mountainous region around Islamabad. The chalets are quite affordable and can be great for weekend getaways or as ideal places to live in peace.
Friendship aside, I'm really impressed with the designs and the previous projects that these guys have done. Everything is so futuristic and unlike most local contractors I've come across, they pay meticulous attention to detail. I've stayed in a couple of places designed and built by them and the average Pakistani house just can't compare.
Best of luck with everything guys. Hope I'm able to move to one of these soon.