With no end in sight to the severe power shortage across the country, I was thinking about what could be done to make the darker hours easier. With the cost of generators touching the sky (not to mention the maintenance hassles, noise and air pollution and the all-time high fuel costs), other forms of energy look very attractive.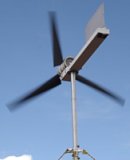 This HOWTO on building your own Wind Turbine was an interesting read and could be useful if you live in a windy area and can get your hands on a few good DC motors (or a full-fledged generator).
It just came to me that we may even be able to use one of those used kabuli car generators for this. They are readily available with most car mechanics and should be a lot cheaper than a commercial generator, though I'm unaware of their actual efficiency.
The same person also constructed a cheap solar panel system though it may be quite difficult to make use of it on a bigger scale.
I wish I had the time to thoroughly study and try out something like this. Maybe an enterprising Pakistani could take this up as a project and open up a lucrative business after ironing out the kinks.