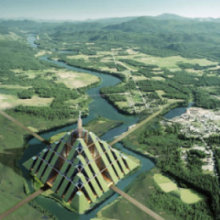 This is one mega-structure that I would love to see completed. Dubai is planning a pyramid-shaped building that will house a million people while having a minimal carbon footprint.
Living in a massive single structure may sound claustrophobic, but various experimental techniques have succeeded in creating an environment that can house lots of people while providing a sense of harmony. I'm certain that such techniques will be used here as well and it won't be just a monolith built to trap it's dwellers.
Looking at the scale of the project, it seems like a far-fetched idea that will require a huge amount of money, material and manpower. Though Dubai has undertaken a number of other ambitious projects, it has also been criticized for its failures.