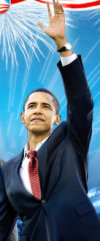 The first message I received this morning was a Ufone breaking news alert stating that Barack Hussein Obama had won the US presidential elections. What happens in the United States has quite a significant impact in Pakistan so Pakistanis have been following the elections closely.
During the election campaigns, a lot has been said about Pakistan and the Muslim world by the main candidates and some of it has been viewed as offensive and threatening. However, coming from a future US president, it seemed comparatively quite sensible.
An African American winning the most influential office is a historic moment for everyone. Obama's message of hope and change is a positive one and I hope this event marks an end to aggression, instability and mistakes of the past.