Just under a year ago, multiple undersea cable cuts around the Middle East left a number of countries in this region without adequate connectivity to Europe and the Americas.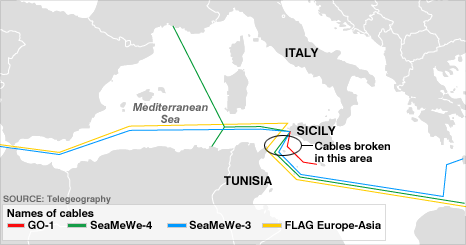 On Friday, the cuts struck again and this time the damage is to three different cable systems. This has crippled the bandwidth for countries spanning the Middle East and a large part of Asia. The Maldives appear to be the worst affected with a total Internet outage. India is suffering from a 82 percent loss of connectivity while Qatar and the United Arab Emirates are only slightly better at 73 and 68 percent respectively.
On a positive note, Pakistan has only lost about half of its connectivity, though it is still devastating for businesses that are unable to function with degraded bandwidth. The call center industry must be in ruins and the rest of us just have enough connectivity to do some blogging.
Repairs have started on the cables, and the article goes into details of the possible causes and what is involved in the repairs. Sea Me We4 is expected to be operational as early as 25th December while Sea Me We3 may take longer.
As someone suggested, we should be using the eastern corridor to reach the Americas and the rest of Asia, especially in times like these. However, a network trace that I ran showed that just to get to a nearby Asian country such as Singapore, my request first goes to Europe, then to the States and after circling almost the entire globe, finally reaches the destination.