Today, I attended a prayer session at the parade ground in front of the president's house and the national assembly. It was to honor the brave soldiers that have fallen while defending the country against the Taliban insurgency in the North.
Candles were lit and slogans were chanted. Parents and children of some of those great men came forward to add their voices and were honored for their sacrifices.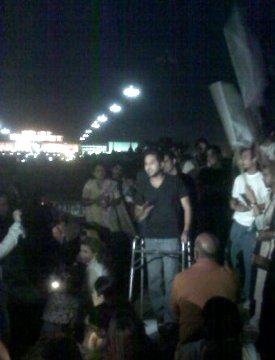 The most disturbing event was listening to a young veteran who was wounded at the front lines. He described learning of the deaths of people he knew. Of watching his friends and those under his command succumb to their deaths, right in front of his eyes. Besides those that have sacrificed their lives, there are countless others who have been permanently maimed or scarred.
The saddest part was that despite all this suffering, all the acts of valor and the successes that have been made against the extremists, some people have the audacity to call the whole operation (codenamed Rah-e-Rast or "righteous path") a sham and just an excuse to receive funds from Western powers.
Others have gone so far as to question the use of force against those that claim to be the soldiers of Islam, yet kill and know only the use of force, both clearly forbidden in the religion of peace.
This is a time for all of us to come together and play our part in supporting the troops and the almost 2 million people displaced by the conflict. The Pakistani army has always borne the brunt of criticism yet its the civilian government that needs to play a better role in dealing with the crisis.
May we achieve a swift victory against the insurgents and may peace and calm return to the once serene valley of Swat and the rest of Pakistan.