Just a few years ago, Islamabad was considered a city bereft of life. A quiet little capital city consisting mostly of government employees who lived a simple life and where opulence was generally unheard of (maybe with the exception of certain elite circles). With most citizens struggling to make ends meet, you would have been hard-pressed to find a racing bike here, much less sports or luxury cars.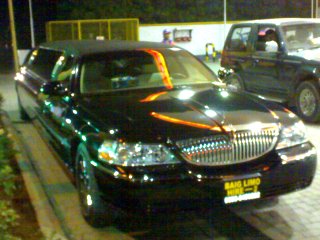 How things change. Finding a Corvette, McLaren or a Z3 isn't very difficult these days and even people like myself can now at least consider getting a decent saloon car (a Honda Civic or something, nothing very fancy). There was a really cool Jaguar parked outside today and I saw another one earlier in the day. I've had only one or two glimpses of truly luxurious cars (Bentleys or Rolls Royces), but they're definitely around.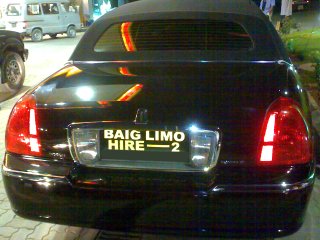 The above "Limo for Hire" was seen around F-7 and looked pretty awesome. There's also a black, BMW Limozine that's usually parked in front of a building about 2 minutes walk from my house. Next to it is a list of packages displaying what an hour or a day of luxurious cruising around the city will cost you. At Rs.6,000 per hour (or Rs.40,000 for an 8-hour wedding package), it should be within reach of many Islamabadiites.
Some might call it an unnecessary indulgence, but in this country of parallels, anything works. And if you have any qualms about ruining the environment, maybe you can get away with it if you consider that Pakistan has the world's biggest fleet of cars powered by relatively environment-friendly natural gas instead of oil.