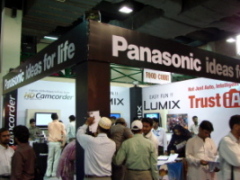 This is my second day at ITCN 2008 and overall, it has been a better than expected experience. The event is well-organized, there are so many types and sizes of companies participating and some of them have organized fun things such as lucky draws, games and giveaways.
The whole thing feels a lot like such events that I've been to in other countries, though still, my main complaint is that there's very little bleeding edge technology on display. Also, some obviously big names are missing from the scene.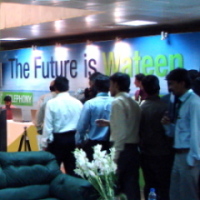 It is off course a commercial event so you can't expect too much in terms of technical details. However, if gadgets and eye candy are your thing, there's lots of it on the main event floors that occupy three large halls.
The conferences went very well too with a number of market leaders speaking on topics related to IT and Telecom in Pakistan. Ammar Jafri, the head of the National Response Center for Cyber Crime, gave a nice presentation about the threats, trends and the countermeasures that we can take to handle Cyber Crime, as well as other Internet threats.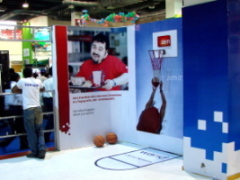 There was also an interesting talk by Wateen Telecom's general manager and a presentation of PTCL's IPTV service by the head of their Multimedia and Broadband division. However, what I found most inspiring was the talk given by Jehan Ara, the president of the Pakistan Software Houses Association (or P@sha for short).
PTCL has officially launched some interesting services that had been in the pipeline for a while. I'll write a separate post about those since their booth is where most of my time at the expo has been spent. I'm also writing this post, courtesy of their connection. Warid Telecom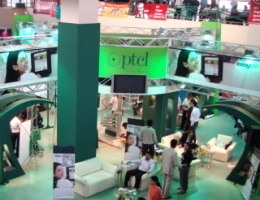 held a number of games and had various fun giveaways. Wateen, the main sponsor of the event, had a whole Counter-Strike battle going on and their new WiMAX device looks pretty cool. I'm sure there was a lot more that I must have missed.
It was also a pleasure meeting some of my online friends face-to-face and getting introduced to new people. Have another day to go so hope to I hope to get in touch with more people and maybe add to the free gifts collection.