For the last few years, the growth in Pakistan's telecom sector has been spectacular. Yes, we're still waiting for 3G and there's plenty of room for improvement, but we have one of the fastest growing number of users and among the lowest call rates in the world.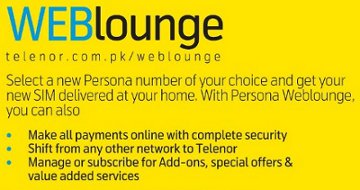 Competition between the various operators has been fierce, but one that has continued to surprise us is Telenor.
It has gained a large chunk of the market in a short time and has usually been the first to introduce a new feature or service. Here is another first.
Along with some prominent bloggers, I was invited to a sneak preview of Telenor's new product that is to be launched in Pakistan today. In a country where it is still very hard to manage anything online (I still have to queue up at the bank or service center to pay most of my bills), the Persona Weblounge lets you do just that and a lot more, all from the comfort of your home.
Looking for a new connection with a golden number or a customized plan? Just select your desired number and complete the online application. Once everything is in order, you'll have your SIM activated and delivered to your doorstep within 48 hours. The same is true for moving your existing number to Telenor (via Mobile Number Portability) or managing the many value added services they have to offer.
The best thing I liked about Telenor was the team's spirit and vision. They seem to be genuinely keen on moving forward and exploring different avenues to expand their services, joining the blogosphere being one of them. Hope they'll continue this trend and also become major sponsors of future blogging events.